---
Supplementary Materials on Water Issues

On a more current basis, consider the following news coverage about water issues. What are the stated and implied environmental ethics represented in the different cases?

Some Background Global News:

World water crisis. BBC Report
The world's supply of fresh water is running out. Already one person in five has no access to safe drinking water.
Dawn of a thirsty century
Friday, 2 June, 2000, 10:30 GMT 11:30 UK By Environment Correspondent Alex Kirby
The amount of water in the world is limited. The human race, and the other species which share the planet, cannot expect an infinite supply. Water covers about two-thirds of the Earth's surface, admittedly. But most is too salty for use. Only 2.5% of the world's water is not salty, and two-thirds of that is locked up in the icecaps and glaciers.
Case Studies

NPR Series on Water:

FRESH WATER IN SHORT SUPPLY
Morning Edition
Monday, May 18, 1998
-- NPR's Anne Garrels begins a series of reports on the precarious balance between the supply and demand for fresh water around the world. With populations increasing and the amount of available water staying the same, scarcity is causing disputes, both within and between countries. At stake are the livelihoods of individuals and the economic and political stability of entire countries. (8:29)


WATER RESOURCES II
Morning Edition
Tuesday, May 19, 1998
-- NPR's Anne Garrels reports on part two of a five-part series focusing on fresh water shortages. She reports from Yemen, where a population explosion and modern developments have greatly endangered the ground water supply. (8:08)


WATER SHORTAGES III
Morning Edition
Wednesday, May 20, 1998
-- NPR's Anne Garrels reports in part three of a five-part series on fresh water shortages. She reports on the intensifying dispute among countries bordering the Nile River over access to its resources. (8:45)


WATER USAGE IV
Morning Edition
Thursday, May 21, 1998
-- In part four of a week-long series on global water usage, Anne Garrels reports on a program in Pakistan to improve the sewage system. Sewers once were either non-existent, or plagued by governmental mismanagement. Now residents are building and maintaining their own inexpensive sewer systems. (8:23)


WATER USAGE V
Morning Edition
Friday, May 22, 1998
-- In the last of a five-part series on fresh water shortages, NPR's Anne Garrels reports from Uzbekistan, where one of the largest inland seas -- the Aral of Central Asia -- is suffering massive degradation. (8:32)

Water Issues in Agriculture:


AGRICULTURAL RUNOFF
All Things Considered
Monday, October 20, 1997
NPR's John Nielsen talks to Robert from the eastern shore of the Chesapeake Bay about a new plan to battle water pollution that arises from agricultural runoff. The federal government would create a buffer zone where all agriculture is prohibited. The zone would affect all the lakes, rivers, and streams that flow into the Bay -- an area that extends from central New York State to southern Virginia. Vice President Gore announced the plan at Maryland farm late this afternoon. (3:30)


PFIESTERIA & CHICKENS
All Things Considered
Wednesday, September 17, 1997
NPR's John Nielsen examines the factors that maybe involved in the fish kills reported along the Chesapeake Bay. In the past six weeks, three rivers have been closed to commercial fishing after the discovery of parasite-infested fish. Nutrients in the water appear to be encouraging the proliferation of the parasite -- nutrients that may come from agricultural runoff or other forms of water pollution. At the moment, investigators are focusing on manure flowing into the rivers from the scores of chicken farms along the Bay. But it's not clear that this is the cause of the infestation. (6:00)


POLLUTED WATERS FOSTER TOXIC ALGAE
Morning Edition
Thursday, May 07, 1998
-- In the final part of our series, NPR's John Nielsen reports that water pollution is to blame for most toxic algae blooms. Enviromentalists say tougher standards are needed to decrease polluted runoff from hog and poultry farms and other sources. Some experts warn that farmers may relocate rather than comply with the new rules. (8:21)
In Massachusetts their is a local"flavor" to water disputes, reflecting our history and our economically important crops.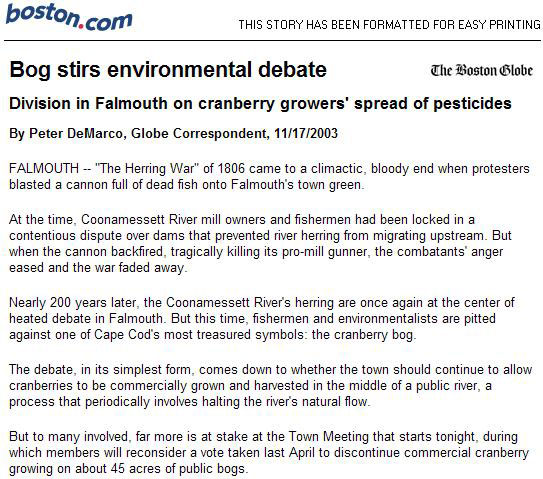 Bog stirs environmental debate
Division in Falmouth on cranberry growers' spread of pesticides

By Peter DeMarco, Globe Correspondent, 11/17/2003
FALMOUTH --

"The Herring War" of 1806 came to a climactic, bloody end when protesters blasted a cannon full of dead fish onto Falmouth's town green.

At the time, Coonamessett River mill owners and fishermen had been locked in a contentious dispute over dams that prevented river herring from migrating upstream. But when the cannon backfired, tragically killing its pro-mill gunner, the combatants' anger eased and the war faded away.

Nearly 200 years later, the Coonamessett River's herring are once again at the center of heated debate in Falmouth. But this time, fishermen and environmentalists are pitted against one of Cape Cod's most treasured symbols: the cranberry bog.

The debate, in its simplest form, comes down to whether the town should continue to allow cranberries to be commercially grown and harvested in the middle of a public river, a process that periodically involves halting the river's natural flow.

The Pacific Northwest: Agriculture vs. Wildlife


Klamath River
Weekend Edition - Saturday
Saturday, June 16, 2001
Drought in the Klamath River Basin in Southern Oregon means farmers are losing all of their agricultural water to the sucker fish. Nancy Solomon (KLCC) reports.


Klamath Water
All Things Considered
Wednesday, July 25, 2001
NPR's Wendy Kaufman reports that some late rains have allowed authorities to release some irrigation water to farmers in Oregon's Klamath River Basin. Flows for irrigation had been stopped in order to protect endangered fish. (1:30)


Klamath Basin Protest
All Things Considered
Tuesday, August 21, 2001
NPR's Andy Bowers talks to Linda Wertheimer about today's protest in Klamath Falls, Oregon. Thousands of people gathered to protest how the government is managing a federal irrigation project. Water is scheduled to be shut off to local farmers on Thursday in order to allow enough water to sustain downstream fisheries. (4:00)


Klamath Falls Protests
Morning Edition
Wednesday, August 22, 2001
NPR's Andy Bowers reports on the protests in Klamath Falls, Oregon, over federal restrictions on water to farmers. (4:14)
The Walkerton "Affair"
Inside Walkerton - CBC Report
"We have a terrible tragedy here."
With those words, Ontario Premier Mike Harris waded into the Walkerton, Ontario water crisis on Friday, May 26, 2000. He addressed a crowd of reporters and residents in the normally quiet town in the heart of Ontario's rural heartland; a part of the province that normally gears up for a flood of funseekers at this time of year.
Instead, Walkerton began the transition into the town "where those kids died from E. coli". It's not what anyone wanted, but it was the end result. Reporters from around North America descended on the area, trying to get to the bottom of what's being described as Canada's worst-ever outbreak of E. coli contamination. Seven people died from drinking contaminated water. Hundreds suffered from the symptoms of the disease, not knowing if they too would die.
Groundwater Pollution: The Case of MTBE


GAS ADDITIVE MTBE
All Things Considered
Wednesday, November 25, 1998
What began as a program to fight air pollution has now necessitated dozens of costly studies and created a public health concern. The gas additive MTBE helps to lower tail-pipe emissions-- but it also contaminates ground-water. As the state of California looks for ways to cleanup its water supplies, the governor of Maine is also asking the EPA to let his state get out of the reformulated gas program that mandates the use of gas oxygenates like MTBE. Some activists say it's possible to meet clean air standards without using MTBE or any other oxygen additive... and they have gas suppliers ready to deliver the new product. NPR's Allison Aubrey reports.(5:30)



CONTAMINATED WATER & DEFORMITIES
Morning Edition
Friday, January 02, 1998
-- Mary Losure of Minnesota Public Radio reports that scientists have linked the frequency of deformed frogs to contaminated well and ground water. Health experts are now investigating whether those same contaminants pose a risk to humans. (7:19)
Water and the Market: Should water be "priced"?
A heated international debate is emerging about how the human community might best come to value the water upon which it so dearly depends. In market integrated societies many argue that the only way to value water is to give it a "price." Costly goods are valued, it is argued, therefore if you want people to value something you must give it a price and preferably a high price.
Others argue that any "price" cannot ever capture "value." Further, they argue that every known pricing mechanism merely works to strengthen those already strong in the market place, victimizing those with little purchasing power. In short, they argue that pricing water will victimize the very poor even more than they are currently exploited.
Consider the following stories. Then develop an assessment and an opinion on whether or how water should be priced. What ethical implications are imbedded in your thinking?

WATER - Price of Water is highest for the poor
Weekend Edition - Saturday
Saturday, May 09, 1998
NPR''s Anne Garrels reports from Karachi, Pakistan, on the too high price of water, especially for the poor. (5:30)


CHINA WATER
All Things Considered
Tuesday, April 07, 1998
NPR's Mary Kay Magistad visits the Huai (HWIGH) River basin in eastern China, where the government has ordered the cleanup of some of the country's worst water pollution. Small factories and businesses have dumped so many pollutants into the river that residents say even pigs sometimes won't drink the water. People living downstream have had to depend on trucks to bring them water each day because their own water supply is unusable. One problem with the cleanup is enforcing the edicts of the central government, but area residents are starting to report violations; they know what it's like to live with contaminated water. (7:00)
CBC's - The Future of Canada's Water
Canada lucked out in the global water sweeps. We are near the top of water-rich nations, trailing only Brazil, Russia and China.
Thanks to the replenishing cycle of rain and evaporation, the amount of water on Earth has remained the same over the past four billion years. Only in this generation has there been concern that we may be ruining our water supply. Of all the water on our planet, 97.5 per cent is sea water and three-quarters of the remaining 2.5 per cent is locked in polar ice caps. The tiny bit left over is drinkable.
Gerry White is an entrepreneur who wants to sell Canada's water to the world and sees no reason why he should be prevented from doing so.
Specifically, he wants to sell water from Gisborne Lake in Newfoundland. The lake is 16 kilometres long and 10 kilometres wide, near the south coast of Newfoundland. White flew over Lake Gisborne one summer day in 1996 and nearly didn't notice it because the water is so clear.
Maude Barlow is chair of the Council of Canadians, a citizens' group with 100,000 members. She is the Joan of Arc of those opposed to the sale of Canadian water.
"There is a common assumption that the world's water supply is huge and infinite," Barlow has said. "This assumption is false. At some time in the near future, water bankruptcy will result."
She cites a United Nations study that says by the year 2025 – less than 25 years – two-thirds of the world will be "water-poor."
"The wars of the future are going to be fought over water," Barlow has declared.
The Blue Planet Project - Council of Canadians
Blue Gold: The Battle Against Corporate Theft of the World's Water By Maude Barlow and Tony Clarke
"Blue Gold : World Water Wars," YouTube, (26 January 2008).
"Maude Barlow on the Global Water Crisis, KPFA Events," YouTube - KPFAradio, (29 February 2008).
Blue Covenant: Maude Barlow on the Global Movement for Water Justice," Democracy Now, (27 February 2008)
For the Love of Water (FLOW - the Film).



This story originally aired on NOW with Bill Moyers on July 5, 2002.
A co-production of NOW with Bill Moyers and FRONTLINE/World.


Links
Public Services International: Water in Public Hands
fact sheets on corporate corruption and water privatization

Links
Sources for Global Water Assessments:
The World Water Forum
The 2nd World Water Forum - 17-22 March 2000, the Hague, Netherlands
The World's Water - WorldWater.Org - Peter H. Gleick, Pacific Institute
Water data from: The World's Water